#Discription___
A New Type of Streaming Experience – Only from Epson.
The Epson EpiqVision Mini EF-100B ATV Laser Projection TV represents a new type of 3-chip laser projection technology designed for today's content streamers. Based on unique Epson MicroLaser Array Technology, this projector is not only elegantly compact, but capable of producing an incredibly bright and colorful image up to 150" on virtually any wall or dedicated screen.
Powered by Google's Android TV™, the moment you power-on the EF-100, you're ready to use all your favorite streaming apps.
The world's smallest1 3LCD, true laser-based projector, the EF-100 represents a new type of streaming experience and a significant technical achievement in mini-laser digital projection.
Easy to use
Remarkable image quality
Elegant, Compact Design
Bluetooth connection that supports external speakers
More than just a Projector
This unique design comes in contrasting white and silver accents or black and copper trimmings. Giving you the ultimate choice in choosing the design that best matches your style.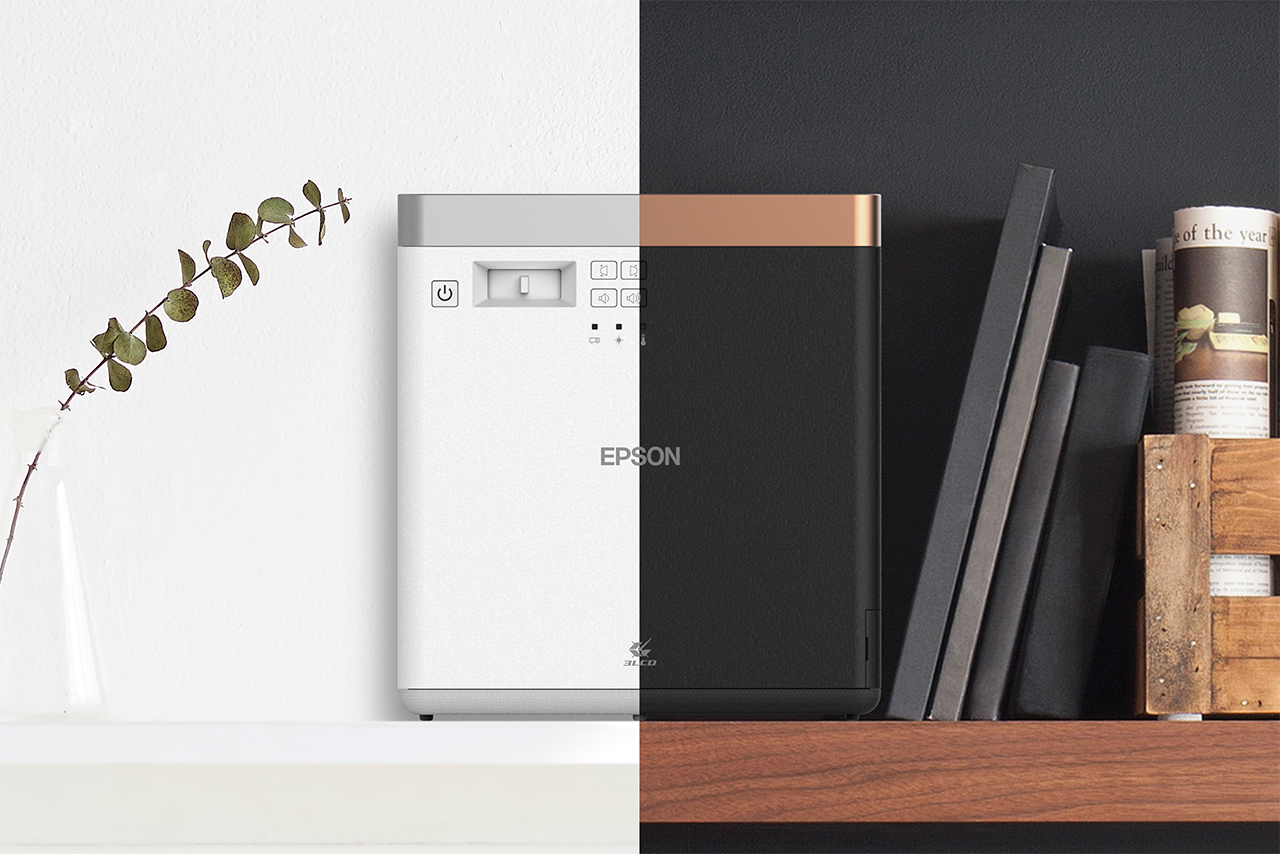 Android TV™ Ready
All you need is to plug in the power and your entertainment begins. Home entertainment is made more accessible and fuss-free with EpiqVision Mini EF-100B ATV Laser Projection TV, which comes ready with Android TV™ function.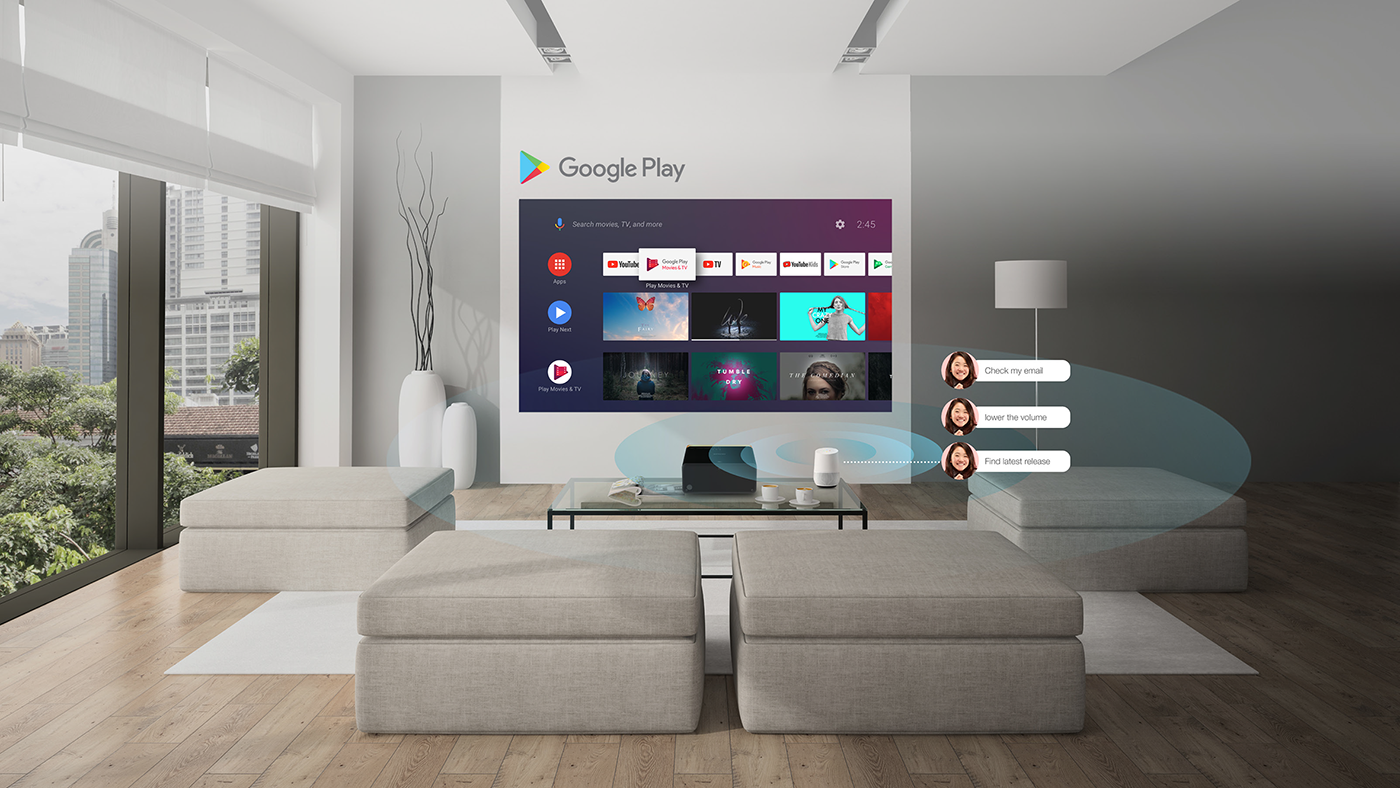 Entertainment on the Go
With its slim and lightweight design, this compact projector can be carried easily from room-to-room. Don't try this with your regular TV!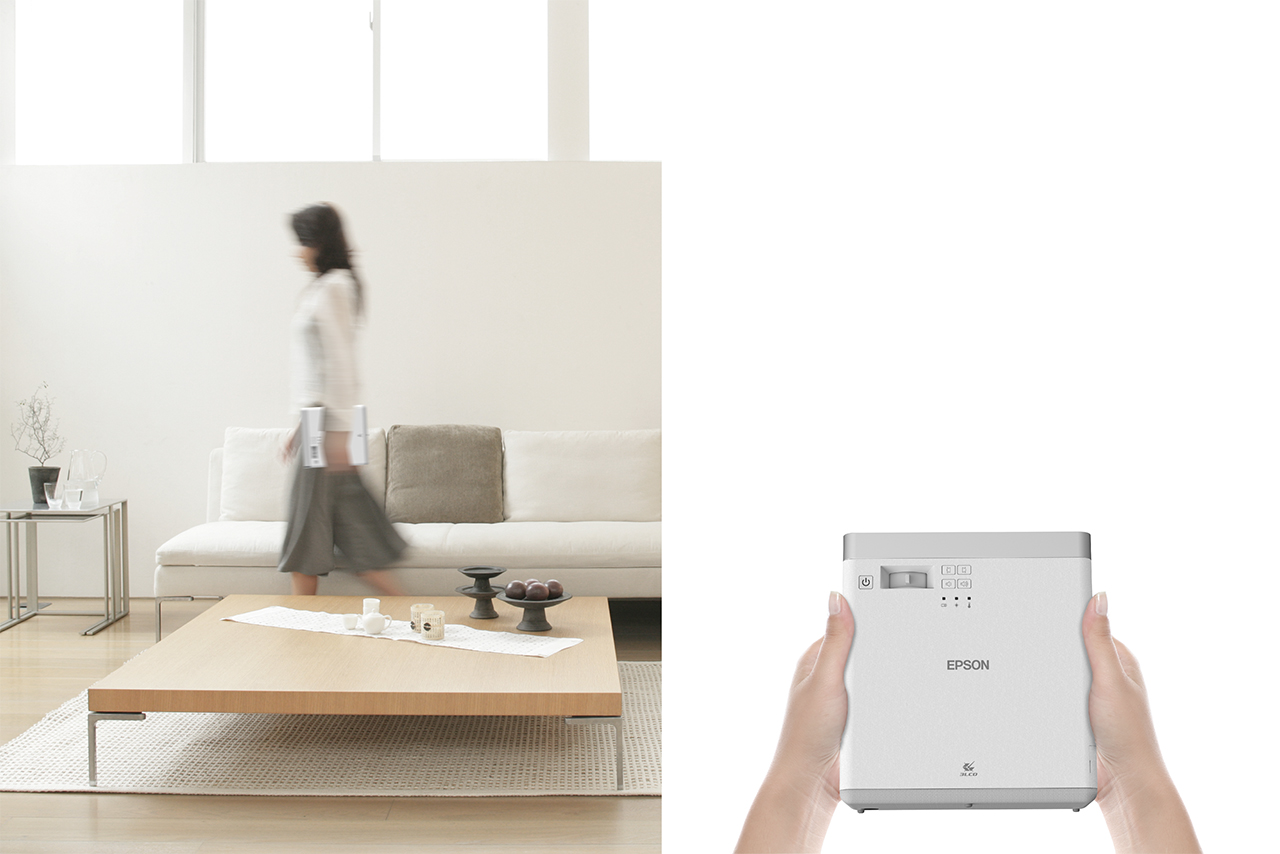 Brilliant Images in any Setting
High brightness and remarkable image quality make it easy to enjoy widescreen adventures in any setting—no matter whether the room is dark or bright. Watch your favourite movies and TV shows and enjoy the big screen experience, right at home.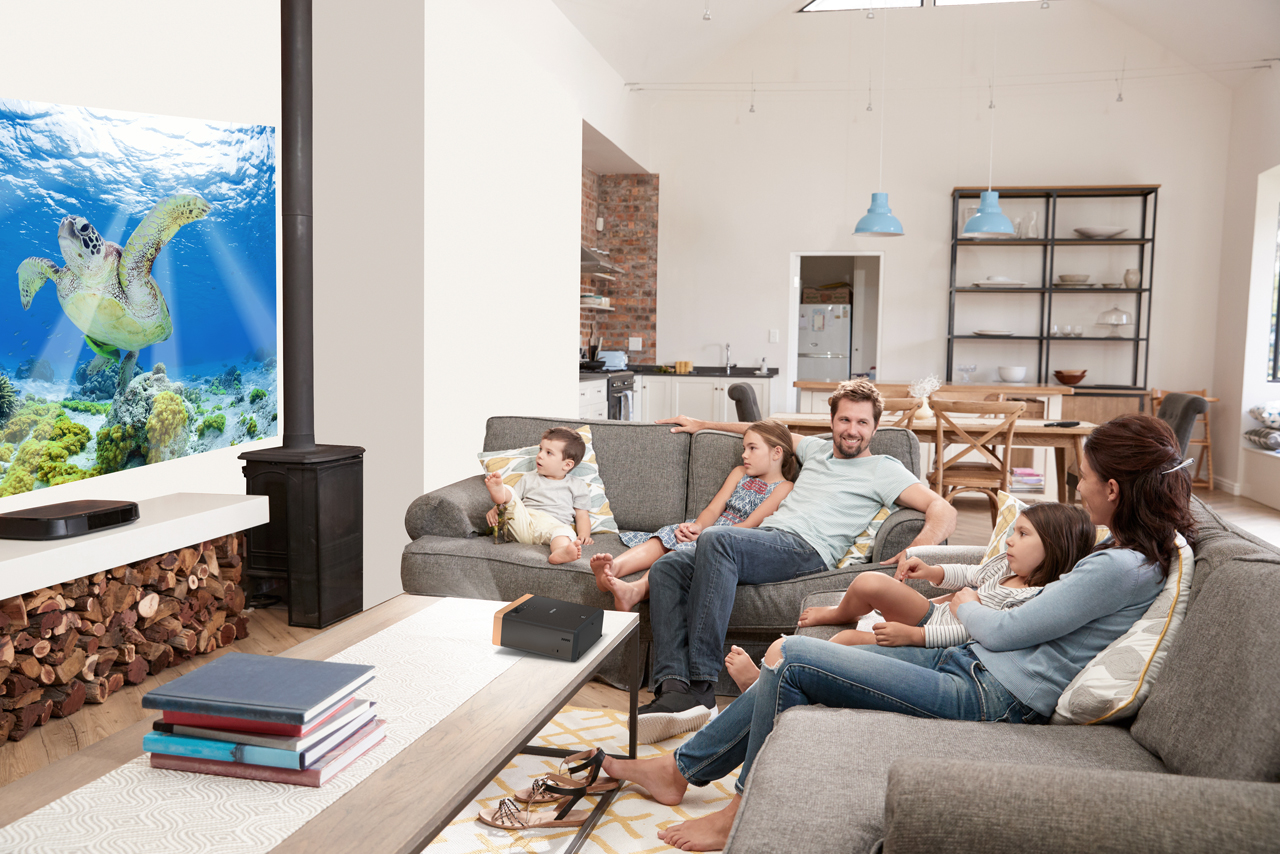 Bringing Entertainment to the Next Level
Expand your viewing options with this 360-degree projection technology that allows you to watch your favourite shows anywhere, even at the comfort of your bed. So lie back, relax and enjoy!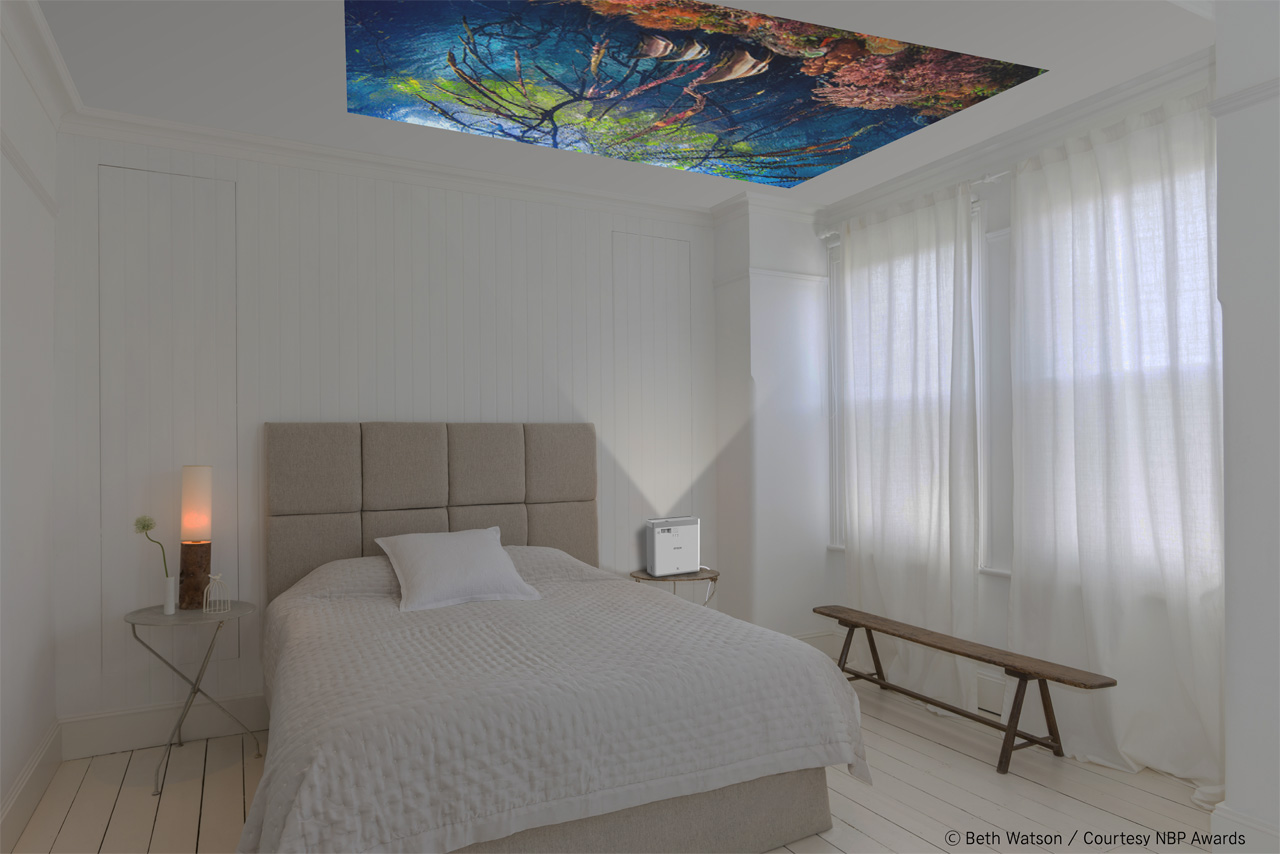 #Key_Features__
Projection Technology:
---
Projection Technology:RGB liquid crystal shutter projection system
Specifications of Main Parts:
---
Panel Size:Size Native Resolution: 0.59 inch (C2 Fine) WXGAProjection Lens:F-Number: 1.58
Type: No optical zoom / Focus (Manual)
Focal Length: 13.53mm
Throw Ratio: 1.04 - 1.40
Zoom Ratio: 1.0 - 1.35 (Digital Zoom)Lamp:Type: Laser Diode
Life (Normal / Extended): 12,000 / 20,000 hours (Normal/Extended)
Brightness:
---
White Light Output (Normal / Eco):2,000 lm / 1,000 lm
2,000 lm / 1,000 lm
Connectivity:
---
USB Interface:USB TYPE A: 1 (For 2A Power Supply, Firmware Update and 2 Amp for AndroidTV power)
USB TYPE B: 1 (For Firmware Update and Copy OSD Settings)Digital Input:HDMI: 1Audio Out:Stereo Mini 1Android TV Dongle:Wireless 2.4 GHz and 5 GHz; IEEE 802.11a, b, g, n, ac; Bluetooth 4.2 Class 2; Video Resolution up to 4k@ 60 HZ 4:4:4 color
Contrast Ratio:
---
Contrast Ratio:Over 2,500,000:1
Screen Size (Projected Distance):
---
Screen Size (Projected Distance):30" to 150" [0.65 to 3.41 m] (Zoom: Wide)
22" to 111" [0.65 to 3.41 m] (Zoom: Tele)
Standard size: 60" screen 1.34 - 1.81 m
Geometric Correction:
---
Vertical/Horizontal Keystone:± 45 degrees | ± 40 degrees
Adjustment Functions:
---
Aspect Mode:Yes (Auto / 16:9 / Full / Zoom)
Image Enhancement:
---
Mpeg Noise Reduction:Yes
Start-Up Period:
---
Start-Up Period:Under 6 seconds / Warm-up period: 30 seconds
Operating Temperature:
---
Operating Temperature:5 - 35 °C <41 - 95 °F> (0m / 0ft - 2,286m / 7,500ft)
5 - 30 °C <41 - 86 °F> (over 2,286m / 7,500ft)
[20%-80% Humidity, No Condensation]
Operating Altitude:
---
Operating Altitude:0 m to 3,000 m <0 ft to 9,843 ft>
(Over 1,500 m / 4,921 ft : with High Altitude mode)
Power:
---
Power Consumption:Lamp On (Normal / Eco): 172W / 115W
Standby (Network On / Off): N/A / 0.4WPower Supply Voltage:100 - 240 V AC ±10%, 50/60 Hz
Internal Speaker(s):
---
Sound Output:5W Monaural (with enclosure)
Weight:
---
Weight:Approx. 2.7kg
Direct Power On/Off:
---
Direct Power On/Off:Yes / No
Air Filter:
---
Maintenance Cycle*4:5,000 H
Dimension Excluding Feet:
---
Dimension Excluding Feet (D x W x H):227 x 210 x 88 mm
Wireless Specifications (Smart Media Player Function):
---
Wireless LAN Generation :Wi-Fi 5Supported Speed For Each Mode:IEEE 802.11a (5GHz) / IEEE 802.11b (2.4GHz) / IEEE 802.11g (2.4GHz) / IEEE 802.11n (2.4GHz and 5GHz) / IEEE 802.11ac (5GHz)*3Bluetooth:Version 5.0Frequency Used:2.4GHzSupported Codec:SBCSupported OS:Android OSSupported VOD Platform:Android TVVideo Output Resolution:Up to 3,840 x 2,160 60fps 4:4:4
Wireless Specifications (Built-in Bluetooth Unit):
---
Version:Version 3.0Communication Distance:Approx. 10mFrequency Used:2.4GHzSupported Codec:SBC, Qualcomm aptX Audio
Streaming Media Player:
---
Supported Operating System:Android 9.0. Nunai OSVideo Processing:Dolby VisionOptional, Dynamic HDR, HDR10, HLG and Technicolor HDR processingAudio:MP3, AAC, WMA, RM, FLAC, Ogg, Dolby DigitalOptional, Dolby Digital PlusOptional, DTSOptional and programmable with 7.1/5.1 down-mixing
Fan Noise:
---
Fan Noise (Normal / Eco):29dB / 26dB
Projectors Facets:
---
Resolution, Projectors Facets:WXGAContrast Ratio, Projectors Facets:Over 2,500,000:1Brightness Range Lumens, Projectors Facets:20004K PRO-UHD, Projectors Facets:NoFeatures, Projectors Facets:Quick Corner
Android TV
Auto Vertical KeystoneLaser / Lamp, Projectors Facets:LaserScreen Size, Projectors Facets:22 - 150Projector Primary Usage, Projectors Facets:Home EntertainmentProjector Series, Projectors Facets:EpiqVision Mini